School Council eNews September 3, 2020
Alberta School Councils' Association (ASCA)

   jolainek@albertaschoolcouncils.ca

Unsubscribe

Thu, Sep 3, 4:35 PM (5 days ago)

 

to 

me
School Council eNews
No images? Click here
School Council eNews
Welcome Back Message from the Executive
ASCA President Brandi Rai and Vice President Shelley Odishaw
Safe School Re-entry Resources
Guidance and plans for students to start the 2020-21 school year can be found on the Alberta government website, with extensive back to school resources and Covid-19 topics. Parent guides, and self-screening questionnaires are available in multiple languages.
The Resource Guide is updated each August, be sure you have the latest version (page footer will say Update Aug 2020).
School Council Contact Information
To ensure we have up to date contact information for school councils in Alberta each school year, please submit a Current School Council Contact Form.
The ASCA Board of Directors engages with member school councils in an advisory capacity, through the School Council Engagement Task Force (SCETF). Sign up to participate.
ASCA General Meeting
An ASCA Regular General Meeting will be held online Saturday, October 17, 2020 from 10:00 am to 3:00 pm for consideration of the 2020 Proposed Advocacy Resolutions and any EMERGENT Proposed Advocacy Resolutions.
Deadline to submit an EMERGENT Resolution is October 3rd.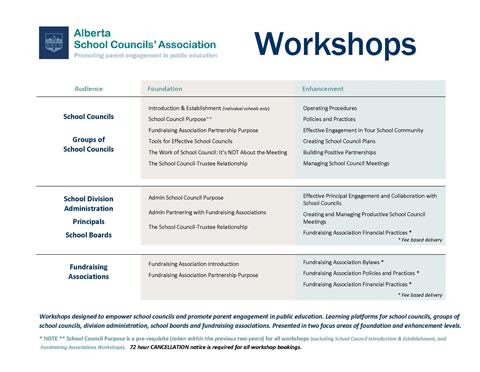 ASCA offers workshops for school councils, groups, school divisions and fundraising associations. Available VIRTUALLY.
Permission for Media Contact
ASCA is often contacted by Media to connect with parents involved in education for a story they are working on. If you are interested in agreeing to speak with Media, please submit a Media Contact Permission Form.
Web clips, webcasts, and webinar recordings available for school council online learning.
To encourage the path forward, Alberta School Councils' Association gathered resources for school councils to utilize in advancing reconciliation in their school communities.
The resources are intended to build foundational knowledge with understandings of concepts, terms and information that can support a shift in thinking and attitudes to advance reconciliation.
Alberta School Councils' Association
#1200, 9925-109 Street
Edmonton, AB T5K 2J8

Phone: 780-454-9867
Toll Free: 1-800-661-3470
Fax: 780-455-0167